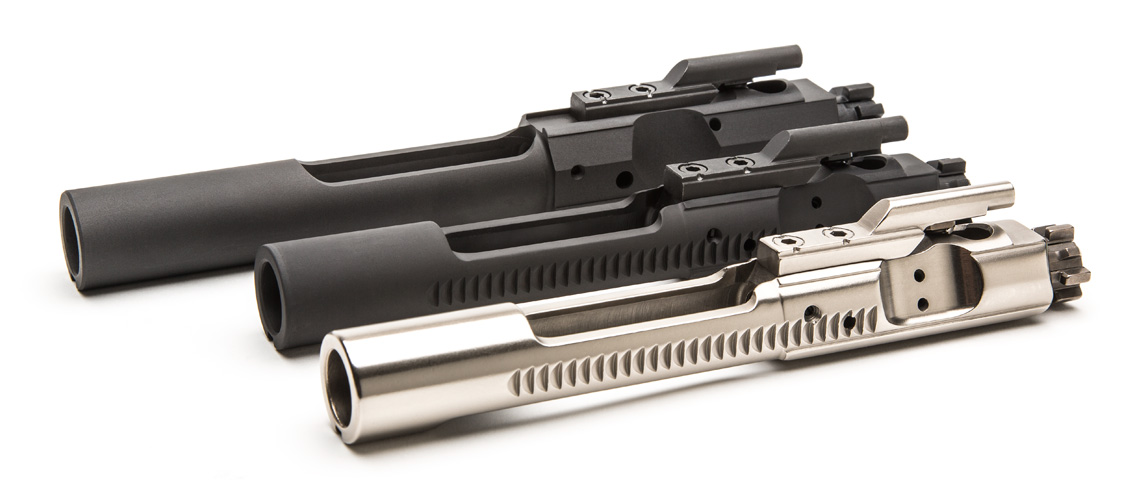 Products
Our carriers come with a variety of options and are all manufactured to customer print and specifications within our facility in Marion, North Carolina.
Toolcraft has the ability to offer a wide variety of calibers and styles of BCG's. If you prefer to apply a special coating, we can machine your order to the specifications that are required to allow for the coating buildup. If you decide to use this method, please let our knowledgeable customer service personnel know your intentions and we will machine it correctly to your application.  We can also sell just the carrier or a carrier with the key properly assembled and staked.

Available Options
Calibers

.223/5.56
.308/7.62×51
.458 SOCOM
.450 Bushmaster
6.5 Grendel
6.5 Creedmoor
6.8 SPC
.224 Valkyrie
Remington 260
9mm

Complete Bolt Carrier Group (BCG)
Gas or Piston Driven
Left or Right Handed
With or Without Keys (Staked to Government Specifications)
Chrome ID's and Manganese Phosphate OD's
Diamond-like Carbon (DLC), Salt Black Nitride, Nickel Boron Plated or White and Titanium Nitride
With or Without Forward Assist Serrations
Customer Specified Engraving
Certs can also be provided at your request for an additional fee
Carrier Materials
Bolt Carriers made from 8620 Steel, 6A1-4V Titanium or Aluminum
Keys made from 4130 Steel
Bolts available in 9310 Steel or Carpenter 158
Lifetime Warranty
Our products carry a lifetime warranty. Simply put… Should any of our products fail, return it to us for a brand new replacement.